This is an anniversary for me. Two years of life on wheels.
I posted about this one year ago, and I see I have only written two blogs since. I must do something about that.
The wheels have weathered the year well. I am sitting in them now. They are just a bit more beat up, a sign they are actually being used and I have at least somewhat of a life. But they still look good. There is an addition, a clip on detachable motor in the back, making it a power chair when needed. So far, that isn't often. It is called a SmartDrive. I will review it here in the blog at some point. You can see it in the pic below.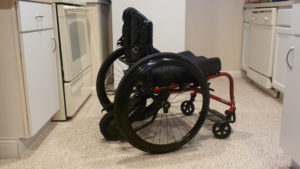 When I first took these two years ago, I was told the way to use them was to consider them a part of me. When you are not in the wheels, it is just a wheelchair. But when you are, you don't just sit in it. You allow it to meld into you and you become one with it. You and the wheels are not separate, you become a single entity. You are one. I have embraced this philosophy from the beginning and it has served me well. When someone else takes the wheels out of the trunk, I tell them, "Be gentle with that. It is a part of me." And I mean it.
A few months ago I learned that apparently others consider it a part of me as well. Maybe not in a good way. I was at a church and I was called into the pastor's office. She told me I was "getting too close" to the other members of the church. By "too close" she meant I was physically too close to them. I didn't understand this. I am sitting in a wheelchair. I cannot get as close to someone as I have seen so many others do. They stand right there next to each other, almost touching.
But she told me I was anyway. She told me that when I scoot in with the wheels, they felt I was "too close" to them. It made them uncomfortable. Then she told me she felt the same way. She told me that if I wanted to talk to her, I was to approach her from the side, not the front. And then she demonstrated. But what she demonstrated actually made me physically closer to her than I would have been otherwise.
I have since found another church (more like a fellowship, actually, but not the freemasons or some such) where they are not so anal and insane and no one has a problem with me.
Some people are still uncomfortable with wheels.
I have also learned to beware the paint job. It doesn't take much for the paint to scrape off of these things. That can make them look real bad, read fast. But I have so far managed to avoid that for the most part by being a bit more careful than I really want to. I would rather just wheel and not have to worry about it, maybe one day we will be able to do that. (Are you listening, Tilite?)
The tires need to be filled with air once or twice a week because they are high capacity (I keep them around 80psi) and temperature changes make them deflate faster. There are several kinds of tires you can get, some of them are solid and do not require air, but the ride is not as smooth. I am using a portable air compressor I found at Lowe's to fill the tires easily. I have decided that the comfort of the ride is worth the hassle of filling them with air. Sometimes sacrifices must be made. I usually fill them on Saturday afternoons.
As far as me personally – like with last year, the reasons I am sitting in this can still wait for another day. I have deteriorated a little bit since last year, but a lot less than I thought I would. I am still around. Still alive. I know about alive and kicking, but at least alive.
More on this next year…